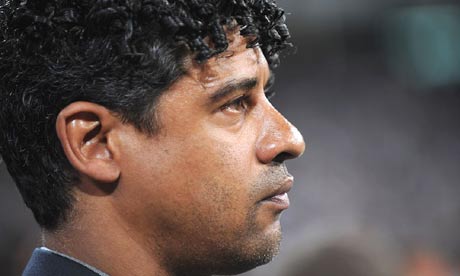 Pep Guardiola has been universally hailed as a visionary manager; transforming Barcelona, and by association, Spanish football into an unstoppable force comprised of technique, skill and potency. The world looked on in enviable awe as Spain swept aside all who came before them at Euro 2012, taking Barcelona's now famous 'Tiki-Taka' style of play to a whole new level of intricacy and sheer brilliance.
With Guardiola now departing and the relatively unknown Tito Vilanova faced with the ominous task of succeeding him at the Catalan club, the mind casts back over the last decade of Barca dominance, and falls upon a name swept unceremoniously aside in the wake of the Guardiola era; Frank Rijkaard; the Dutchman who has found himself lost in transition managing the Saudi Arabian national team, after creating the original beast, and setting into motion the era of Catalonian and overall Spanish dominance.
Branded with the same scalding iron as past greats such as Zinedine Zidane and Rivaldo; as a player, he is generally remembered for non-footballing reasons, namely his fluid ridden altercation with the sponge haired Rudi Voller. But, Frank Rijkaard was an exceptional player; a brutal defensive midfielder, with a dash of class and obvious pedigree.
Originally a centre-back at his first club Ajax, he was also deployed as a right midfielder, and also in centre-midfield. Finally settling on a defensive midfield role with AC Milan and on the international stage with Holland, he complemented his defensive game with lung bursting runs from deep, latching onto loose balls, and burying powerful headers. He was a footballer with the ability to play almost anywhere on the pitch, something that he surely took from his playing days and attached to
his
'complete football' ideal upon entering management.
After taking Holland to the semi-finals of Euro 2000 in his first managerial role, followed by an ill-fated spell at Sparta Rotterdam in 2003, Rijkaard took over as Fc Barcelona manager in 2004. It was deemed as a period of transition for the Spanish club, with new President Joan Laporta looking to usher in a new era for the club; while finally conquering the famous 'Galacticos' of Real Madrid, their eternal rivals.
Rijkaard inherited a team which had not won a trophy since 1999, and many of the superstar names within the squad were not performing.
After a haphazard opening season, which saw Barca initially flirt with the relegation zone, Rijkaard won over his critics and secured a second place finish, with the emerging talent of Ronaldinho a particular shining light.
It was in the next three years that the Dutchman really took Barca by the scruff of the neck, and create a malleable squad brimming with confidence and unshackled ability that brought Europe to its knees. Shrewd pieces of business saw players like Deco, Rafael Marquez,
Ludovic Giuly, and a raw Samuel Eto'o brought in; youth team players such as Andres Iniesta, Victor Valdes and Oleguer were promoted; and the aging squad reinvigorated.
Fuelled by the boundless energy of Ronaldinho, a new looking Barcelona emerged in the wake of the decline of Real's glamorous 'Galactico' era, and won their first La Liga title in six years in 2004.
By 2005, Rijkaard's Barcelona had earned the fear and respect of their peers with their Dutch style fluidity, and comfort on the ball. Devastating in attack, and calm at the back, it was to be the birth of the Spanish Tika-Taka, and the start of a four year journey that would see Spanish football become an unparalleled form of football.
2005 saw Barcelona not only retain their league title, but also add the Champions league trophy to their growing trophy cabinet. Rijkaard was instrumental in the final, bringing on the two goal scorers Henrik Larsson – who he had procured the summer before on a free transfer – and full-back, Julliano Belletti; not renowned as a goalscorer – his winning goal was his first and only for the club. It was also the year where the magical 'Velcro-Gnome' partnership of Xavi and Iniesta began to take form.
Rijkaard had made few changes to his La Liga winning squad that year, keeping faith in the talent already at his disposal. The only addition of real note was another promotion from the youth setup, a promotion instigated by Rijkaard that may be the most important in the club's history – a promotion in the form of a young Argentine forward named Lionel Messi.
Messi was given the chance to showcase his undeniable talents the previous season, and his promotion to the first team was arguably the finishing touch to Rijkaard's single greatest achievement. The brilliant Argentine said of his then former coach in 2009, "I'll never forget the fact that he launched my career, that he had confidence in me while I was only sixteen".
Unfortunately for Rijkaard, Barca's fortunes began to wane after the highs of the 2006-07 season. An early exit at the hands of Liverpool in the Champions league raised eyebrows; and a slow slip down the league table saw Rijkaard experience increasing pressure. Players that had the trust of Rijkaard began to lose their zest, none more than the great Ronaldinho, who had become a constant party-goer and often failed to turn up for training.
The attitudes of several player were called into question, attitudes that bred laziness, and a nonchalant playing style – arguably the ugly face of what was to be Tiki-Taka. It ultimately cost Rijkaard his job, with Guardiola taking over for the 2008-09 season.
Messi, who by then won his first World Player of the year award, commented after Rijkaard's sacking, saying, "Guardiola (Rijkaard's successor) is more strict while Rijkaard gave us more freedom, but unfortunately we couldn't handle it."
It was to be an abrupt end to the first great era for the modern Barcelona team, as Rijkaard's trust in the enigmatic backfired. It was to be Guardiola who took Rijkaard's near perfect blueprint, and molded it with more discipline and greater emphasis on possession.
He went on to mastermind a 14 trophy haul in just four years at the club – making small, but decisive changes; changes which did not include an overhaul of Rijkaard's original squad, or attacking style. None can deny the Dutchman's enduring legacy. He came so close to taking that last step, and making Barca the world's most dominant team – but the plates began to fall, and there was to be no second chance.
But having succeeded in bringing glory back to Catalonia, glory which included beating Real Madrid in the Santiago Bernabeu in two seasons for the first time in their history, collecting the European Cup, reclaiming La Liga, introducing players that have and will continue to rewrite the history books - Rijkaard should be not be forgotten while he toils, to the confusion of many, in the undeveloped footballing nation of Saudi Arabia.
In his creation of a beautiful, attacking ideal – an ideal that will undoubtedly be altered and warped to suit the manager at the time, it was an ideal that will exist at the heart of Barcelona, and the Spanish national team for decades to come.
Links: Youtube, BBC Sport
Pictures: www.collider.com, www.live4lfc.blogspot.co.uk, wallp4pr.blogspot.co.uk, foro.lionelmessi.org, forzaitalianfootball.com, guim.co.uk